You can find numerous open-air baths, temples, and shrines scattered throughout the small area of Bessho Onsen. The area is also surrounded by hills and plains, making it the perfect hiking spot.
ONSEN
Ashiyu Nanakuri

This footbath with a striking octagonal roof is found along the Yukawa River at the foot of Kitamuki Kannondo Temple. It is located in the middle of the hot spring resort area, and is the perfect spot to take a break when exploring the resort. Admission is free all year around.

Insento

Bessho Onsen is also unique for its pristine, potable water. Insento is a "drinking tower" located along the approach to the public baths and Kitamuki Kannondo Temple where anyone can stop by to draw hot spring water for consumption. Its water is said to be effective against diabetes, gout, and constipation.

Ishiyu

In addition to the hot spring baths at the ryokan you are staying, you can also enjoy open-air baths at any time. There are three such baths in the hot spring resort area, which have affordable admission fees of JPY150 each. (Please bring along your own towel and soap.)

Aisome no Yu

Located just a two-minute walk from Bessho Onsen Station, this hot spring facility is perfect for a day trip and the admission fee is JPY500. In addition to enjoying the natural hot springs and bedrock baths here, you can also buy local vegetables, fruits, and souvenirs, or drop by its restaurants.
TEMPLES and SHRINES
Kitamuki Kannondo Temple

This is one of the most famous temples in the Ueda area and is well known for its Kannon's power to ward off bad luck. It is often recommended for visitors to pay a visit to both this temple and Zenkoji Temple in Nagano City. The approach to this temple is lined with many souvenir shops and restaurants, and the temple grounds are home to 1200-year-old "Aizen Katsura" trees, temple halls, and Jizo statues.

Anrakuji Temple

Anrakuji Temple is the oldest Zen temple in Shinshu. Its wooden octagonal three-story pagoda is the only wooden octagonal pagoda in Japan, making it a rare monument that was the first structure in Nagano Prefecture to be designated as a National Treasure. You can enjoy Zen meditation and scripture writing sessions at this temple (reservations by phone required).

Jorakuji Temple

This temple's stone pagoda is an invaluable cultural asset that has been designated as a National Important Cultural Property. There is a 350-year-old pine tree in the temple garden called "Mifune no Matsu" that is incredibly beautiful and whose stunning autumn foliage is a wonderful sight to behold.

Bessho Jinja

Bessho Jinja is a popular shrine for people who wish to pray for romantic success, and it boasts a magnificent view. Built in the 18th century as the shrine's main hall, Bessho Jinja has a large area and features an elegant architectural style with impressive engravings. It is also a spectacular monument and a cultural asset with unmatched preservation value. You can enjoy yoga sessions here on early Sunday mornings (reservations required, available only during certain periods of the year).
LOCAL TRAIN
Bessho Onsen is a 30-minute ride on the local train along the Bessho Line from Ueda Station. You can enjoy stunning views of the beautiful mountains and the wonderful seasonal rural landscape from the windows of the train. When alighting at the station building that is cloaked in a striking mint-green color, a stationmaster wearing hakama will welcome you to Bessho Onsen. The station also has a tourist information center (where you can find brochures in foreign languages) and a bicycle rental center for free.
Mountaineering / Trekking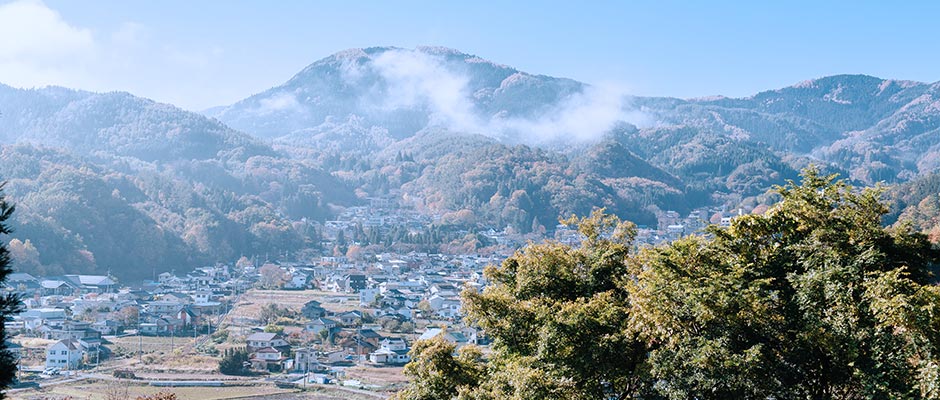 Bessho Onsen is located in Shiodadaira, which has a rural landscape with ancient reservoirs and natural mountain ranges. The scenery you see while riding a local train or bicycle will give you a sense of what the Japanese countryside and the seasonal beauty of Japan are truly like. You will also find many small stores and temples along the way, making the surroundings of Bessho a wonderful place for slow-paced and relaxing sightseeing.

@ Bessho onsen Ryokan Association